View As PDF
sky gold corp. acquires three nickel-copper-cobalt-platinum group element properties in the shebandowan greenstone belt, northwestern ontario
February 7, 2023, Vancouver, BC, Canada – SKY GOLD CORP. ("Sky" or the "Company") (SKYG-TSX:V) (US:SRKZF) announces the acquisition of 3 nickel-copper-cobalt-platinum group element properties, situated in the Shebandowan Greenstone Belt, in northwestern Ontario. The properties are located proximal and in a similar geologic setting as to that of the past-producing Shebandowan Ni-Cu-Co-PGE deposit, mined by Inco Ltd., during the period of 1970 to 1998.
The properties are located between 80 to 125 kilometres west of the City of Thunder Bay and are accessed by the Trans Canada Highway (Highway 17) and a network of all-weather roads. Such transportation infrastructure provides good access to conduct mineral exploration programs on all 3 properties, year-round.
SHEBANDOWAN NI-CU-CO-PGE DEPOSIT
The Shebandowan Ni-Cu-Co-PGE mine of Archean-age comprises a world-class example of a premier magmatic nickel sulphide deposit, with mined reserves of 8.6 MT at a grade of 2.0% Ni, 1.0% Cu and 2.68 g/t Pt and Pd (cobalt grades unknown). The model for mineralization at the Shebandowan deposit invokes:
Greenstone belt deposition in a rifted setting - deep sub-vertical penetrative faults tapping the mantle, should be present in the exploration area
Vertical ultramafic intrusions or sill complexes host Ni sulphide ore as conduits, proximal to the deep faults
Strong alteration of the ultramafic intrusions (serpentinization)
Late mafic dykes within the ultramafic environment indicate extended magmatic activity within the conduits
Strong magnetic expression and conductivity of the Ni sulphide orebodies due to serpentinization (magnetite) of host ultramafic rocks and presence of pentlandite, pyrrhotite and chalcopyrite as Ni sulphide minerals, respectively.
Past exploration efforts in looking for Shebandowan deposit look-alikes, have focussed on the chemistry of ultramafic rocks as the key to new discoveries, whereas the geologic setting in which the ultramafic rocks are emplaced, is likely more important for exploration and discovery success.
SKY GOLD NI-CU-CO-PGE PROPERTIES
The 3 properties acquired by Sky Gold comprise the Sungold property (1,360 hectares), the Greenwater Lake property (720 hectares) and the Kekekuab Lake property (260 hectares).The following summarizes the highlights or key exploration opportunity, on each respective property.
Sungold:
The Sungold property exhibits striking similarities with the geologic setting of the past producing Shebandowan mine. At Sungold, an extensive mafic to ultramafic sill complex, forms the base of the greenstone belt, proximal to the crustal-scale Knife Lake Fault. Additionally, the ultramafic rocks comprising the sill complex are strongly serpentinized, characterized by the presence of magnetite and talc. These altered ultramafic bodies, are reflected by the presence of linear magnetic highs, similar to what is seen at Shebandowan. Additionally, the chemistry of the ultramafic rocks is identical to that of the host rocks at the Shebandowan mine, in terms of MgO content (komatiites).
Most importantly, the altered, linear belts of ultramafic rocks comprising the sill complex are locally coincident with numerous discrete strong conductors, that have not been tested by diamond drilling. Preliminary modelling of such conductors (defined by a historic airborne VTEM survey in 2005) has been completed, yielding several high-quality targets for diamond drilling.
Greenwater Lake:
The Greenwater Lake property, situated approximately 10 km WSW of the Shebandowan mine, is largely underlain by ultramafic rocks. Data compilation indicates that there has been no historic drilling completed on the property. Regional glacial till sampling completed by the Ontario Geological Survey (Bajc, 2000) delineated a prominent cluster of Ni, Cu, Co, Cr, Pt and Pd in-till anomalies, situated east of Greenwater Lake. Notably, highly anomalous levels of Ni, Co and Cr obtained from this survey occur on the Greenwater Lake property, providing immediate targets for follow-up work. The till anomalies are also closely associated with a prominent fault, that cuts the ultramafic rocks. Detailed geochemical sampling is clearly warranted to enhance this target area.
A drill hole situated immediately east of the Greenwater Lake property, undertaken by North American Palladium in 2004, returned very compelling results. Hole SP04-001 returned 0.56 g/t platinum + palladium, as well as 0.30% nickel over 11.8 metres, within what is reported as strongly altered peridotite. No additional drilling was ever completed to follow-up on this drill result.
Kekekuab Lake:
The Kekekuab Lake property is situated approximately 5 km due south of the Shebandowan mine site. As is the case with the Greenwater Lake property, minimal historic drilling has been undertaken at Kekekuab lake. Additionally, mafic and ultramafic rocks are prominent on available geology maps.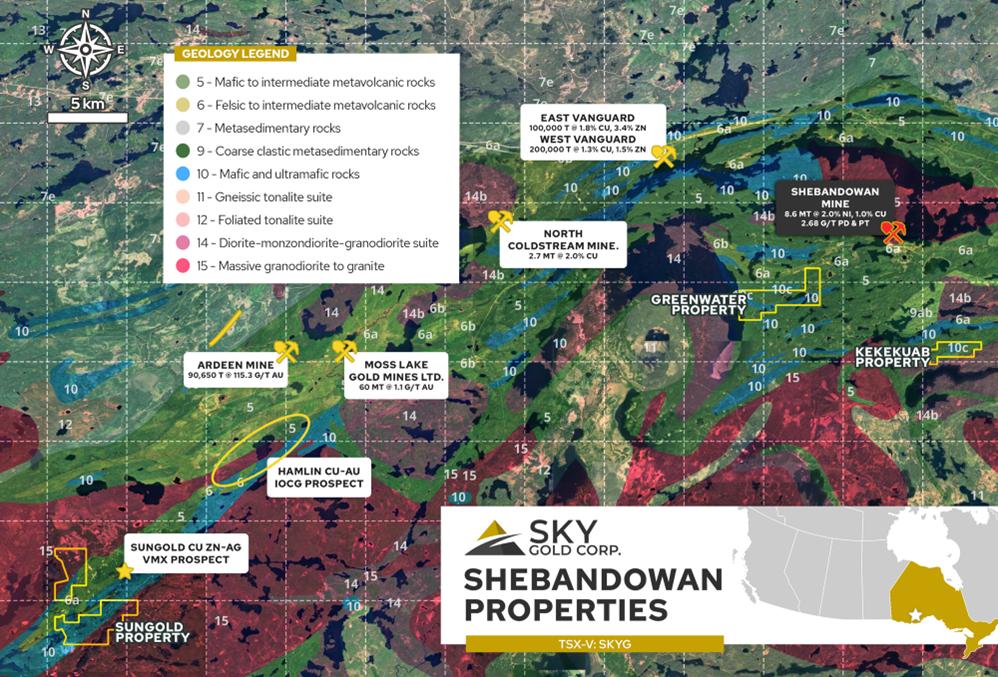 Fig 1. Map of the Sungold, Kekekuab and Greenwater properties
MOVING FORWARD ON THE PROPERTIES
Compilation of the historic and Government data will continue in the near term on all properties, in efforts to consolidate and identify prospective targets.
Additionally, the process of engagement with the indigenous communities of Lac La Croix, Lac Des Milles Lacs, the Metis Nation of Ontario and Fort William First Nation in collaboration with the Ontario Ministry of Northern Development and Mines, will commence as soon as practical, in preliminary efforts to secure exploration permits.
Qualified person
Sky Gold Corp.'s disclosure of a technical or scientific nature in this news release has been reviewed and approved by Don Hoy, P.Geo., who serves as a qualified person under the definition of National Instrument 43-101.
Terms
To acquire a 100% interest in the properties listed the Company will issue 1.5 million shares, pay $20,000 and grant a 2.5% NSR to the vendors of which 1.5% can be purchased back anytime by the Company at its discretion for two million dollars. In the event that, subsequent to the Closing, SKYG determines in its reasonable discretion that an ore body of more than 5 million tonnes is situated in or on the Property, and that such ore body is commercially viable in accordance with industry standards, then the consideration payable by SKYG shall be adjusted upwards, such that SKYG shall issue an additional 1,000,000 common shares in its capital to the Vendors provided that SKYG has not sold or otherwise relinquished the Property.
This transaction is subject to TSX Venture approval. A finder's fee will be payable.
FINANCING
Sky further announces it has arranged a non-brokered private placement of up to 10 million units ("Units") at a price of $0.08 per Unit for aggregate gross proceeds of $800,000.00 (the "Offering"). Each Unit will be comprised of one common share ("Share") and one transferable Share purchase warrant of the Company ("Warrant"). Each whole Warrant will entitle the Subscriber to purchase one Warrant Share for a 24-month period after the Closing Date at an exercise price of $0.12 per share. Proceeds raised from the Offering will be used towards exploration activities on the Company's portfolio of mining projects as well as general and administrative purposes. Finder's fees will be paid pursuant to this financing.
The financing is subject to TSX Venture approval.
ON BEHALF OF THE BOARD
"Mike England"
Mike England, CEO, PRESIDENT & DIRECTOR
FOR FURTHER INFORMATION PLEASE CONTACT:
Telephone: 1-604-683-3995
Toll Free: 1-888-945-4770
Neither the TSX Venture Exchange nor its Regulation Services Provider (as that term is defined in the policies of the TSX Venture Exchange) accepts responsibility for the adequacy or accuracy of this release.
Forward Looking Statements
Certain statements in this release are forward-looking statements, which reflect the expectations of management regarding the matters described herein. Forward-looking statements consist of statements that are not purely historical, including any statements regarding beliefs, plans, expectations, or intentions regarding the future. Such statements are subject to risks and uncertainties that may cause actual results, performance, or developments to differ materially from those contained in the statements, including with respect to the completion of the Consolidation or the identification or acquisition of additional mineral assets. No assurance can be given that any of the events anticipated by the forward-looking statements will occur or, if they do occur, what benefits the Company will obtain from them. These forward-looking statements reflect management's current views and are based on certain expectations, estimates and assumptions which may prove to be incorrect. A number of risks and uncertainties could cause our actual results to differ materially from those expressed or implied by the forward-looking statements, including factors beyond the Company's control. These forward-looking statements are made as of the date of this news release.