View As PDF
sky gold corp. announces critical metals flow-through and hard dollar financing
October 12, 2023, Vancouver, BC, Canada – SKY GOLD CORP. ("Sky" or the "Company") (SKYG-TSX:V) (US:SRKZF) announces a non-brokered private placement comprised of both flow-through units ("FT Units") specifically designed for critical metals and non-flow-through units ("NFT Units").
The flow-through portion of the financing will consist of up to 5.0 million FT Units at a price of $0.06 per FT Unit, resulting in aggregate gross proceeds of up to $300,000. Each Critical Minerals FT Unit will include one flow-through share ("FT Share") that qualifies as a Critical Minerals flow-through share under the Income Tax Act (Canada), along with a transferable non-flow-through share purchase warrant of the Company ("NFT Warrant"). Each NFT Warrant will enable the holder to acquire an additional non-flow-through Share at a price of $0.10 per Share for a period of 24 months from the date of issuance.
The gross proceeds from the FT Units will be utilized for incurring "Canadian exploration expenses" and "flow-through critical mineral mining expenditures" as defined in the Income Tax Act (Canada).
All Shares, Warrants, and NFT Warrants, as well as the Shares underlying the Warrants and NFT Warrants, will be subject to a statutory hold period of four months and one day from the date of issuance.
The non-flow-through portion of the financing will consist of up to 4 million NFT units at a price of $0.05 per NFT Unit for aggregate gross proceeds of $200,000 (the "Offering"). Each NFT Unit will be comprised of one common share ("Share") and one transferable Share purchase warrant of the Company ("Warrant"). Each whole Warrant will entitle the Subscriber to purchase one Warrant Share for a 24-month period after the Closing Date at an exercise price of $0.10 per share. Proceeds raised from the Offering will be used towards exploration activities on the Company's portfolio of mining projects as well as general and administrative purposes. Finder's fees will be paid pursuant to this financing.
The financing is subject to TSX Venture approval.
SKY GOLD NI-CU-CO-PGE PROPERTIES
Sky has a dominant land position located five km southwest of the past-producing Shebandowan Ni-Cu-Co-Cr-PGE mine, operated by Inco Ltd. during the period of 1970 to 1998. The Shebandowan mine is a world-class example of a primary magmatic Ni-Cu-Co-Cr-PGE deposit, with produced tonnage and grade of 8.7 million tonnes at 2.0% nickel, 1.0% copper and 3.0 g/t platinum-group-elements (cobalt and chrome grades are unknown).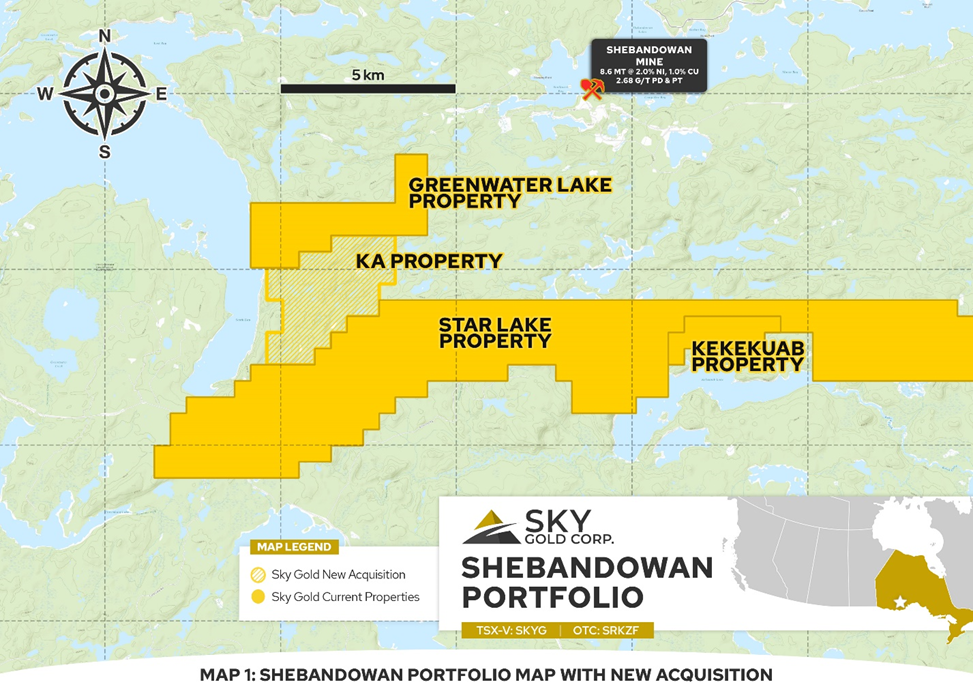 The Consolidated Property:
Consistent with the Company's strategy of acquiring high-quality strategic, battery-metal properties, proximal to world-class assets, the Property comprises 37 unpatented claims totaling 655 hectares, situated in the Begin Township in the Thunder Bay Mines and Minerals Division. The Property can be explored 12 months a year and has an exploration permit in place, enabling exploration to commence immediately.
The addition of the KA property in combination with the earlier acquired Greenwater Lake and Star Lake properties (see Sky news releases dated March 2, 2023 & May 2, 2023 respectively) provide the Company with a commanding land position (the 'Consolidated Property') in the central portion of the Shebandowan greenstone belt (Figure 1). Highlighting the exploration opportunity on the Consolidated Property (7,269 hectares), is a large cluster of strongly anomalous nickel, cobalt, chrome and platinum-in-glacial till geochemical anomalies, delineated by an Ontario Geological Survey investigation of the Shebandowan greenstone belt (Bajc 2000). The highest Ni-Co-Cr-PGE values reported in the entire till survey area occur within the Consolidated Property confines, in the Begin Township, just to the east of Greenwater Lake. In these locales, values of up to 345 ppm nickel, 44 ppm cobalt, 398 ppm chrome, 4,15 ppb platinum & 4.13 ppb palladium occur, collectively forming a discrete cluster of strongly anomalous sample sites, over a large area of several square kilometres.
Sungold:
The Sungold property exhibits striking similarities with the geologic setting of the past producing Shebandowan mine. At Sungold, an extensive mafic to ultramafic sill complex, forms the base of the greenstone belt, proximal to the crustal-scale Knife Lake Fault. Additionally, the ultramafic rocks comprising the sill complex are strongly serpentinized, characterized by the presence of magnetite and talc. These altered ultramafic bodies, are reflected by the presence of linear magnetic highs, similar to what is seen at Shebandowan. Additionally, the chemistry of the ultramafic rocks is identical to that of the host rocks at the Shebandowan mine, in terms of MgO content (komatiites).
Qualified person
Sky Gold Corp.'s disclosure of a technical or scientific nature in this news release has been reviewed and approved by Don Hoy, P.Geo., who serves as a qualified person under the definition of National Instrument 43-101.
ON BEHALF OF THE BOARD
"Mike England"
Mike England, CEO, PRESIDENT & DIRECTOR
FOR FURTHER INFORMATION PLEASE CONTACT:
Telephone: 1-604-683-3995
Toll Free: 1-888-945-4770
Neither the TSX Venture Exchange nor its Regulation Services Provider (as that term is defined in the policies of the TSX Venture Exchange) accepts responsibility for the adequacy or accuracy of this release.
Forward Looking Statements
Certain statements in this release are forward-looking statements, which reflect the expectations of management regarding the matters described herein. Forward-looking statements consist of statements that are not purely historical, including any statements regarding beliefs, plans, expectations, or intentions regarding the future. Such statements are subject to risks and uncertainties that may cause actual results, performance, or developments to differ materially from those contained in the statements, including with respect to the completion of the Consolidation or the identification or acquisition of additional mineral assets. No assurance can be given that any of the events anticipated by the forward-looking statements will occur or, if they do occur, what benefits the Company will obtain from them. These forward-looking statements reflect management's current views and are based on certain expectations, estimates and assumptions which may prove to be incorrect. A number of risks and uncertainties could cause our actual results to differ materially from those expressed or implied by the forward-looking statements, including factors beyond the Company's control. These forward-looking statements are made as of the date of this news release.